Recently I got to experience the SNOO Smart Sleeper hands on and it is an absolutely amazing contraption. The folks over at Happiest Baby on the Block really knocked this one out of the park, that's for sure.
True, it is expensive.
Now, if you've ever looked into this bassinet, you probably already know that it packs a pretty hefty price tag. At a whopping $1395.00 purchase price, many may think, "how in the world could I ever afford that?". You can rent it too, for only $129.00 per month. Now, if you think about it, this is the way to go unless you are not done having children. The average baby will likely only use it for about 3 months anyway, so you'd save a pretty penny by renting it for a few months and then give it back and free up some space in the nursery.
There are other thrifty ways to get your hands on one for less. There are Facebook groups dedicated to the use and resale of this amazing machine. If you have friends that are also in their childbearing years, you could go in on it with a few people and share it. Or purchase it from a friend when they are done. Purchase it used from a Yard Sale site, etc. If you can get your hands on one of these bad boys and you are about to have a baby, or you just had one…GET IT!
So why is this Smart Sleeper Bassinet such a great addition to your nursery, you ask?
Well, let me tell you why! It is intuitive, adaptable, sleek, and just an all-around SMART sleeper. It comes with swaddle wraps (and you can purchase additional) that connect to the bassinet letting it know when your baby is safely inside. Once baby is secured in the SNOO, nice and swaddled, you can turn on this bad boy and it provides a nice gentle swaying motion along with soft white noise. This helps to keep baby soothed and calm while sleeping.
But what happens when baby wakes up or is fussy?
Well, let me just tell you! This smart bassinet detects baby's movement and cries and adjusts the motion and white noise to help gently soothe baby back to sleep. There are 5 levels of motion/noise that change along with baby's movement. If the motion/sound don't settle baby back to sleep, the bassinet is smart enough to stop the motion/sound and alert you that your little one needs your attention. Now chances are, you already know this, or you've already gone to baby before it gets to this point.
But how do you get this alert you ask?
Oh, this puppy comes with an app! Yes, this Smart Sleeper Bassinet is Wi-Fi enabled and you can track baby's sleep, movement, and cycles right there on your phone (or even multiple devices). If you do allow the bassinet to work all the way up to the highest level, you'll get a notification on your device to attend to baby.
The features don't stop there!
Does your baby have reflux and not do so well laying flat on her back? No worries, you can get risers for 2 of the legs and give your SNOO Smart Sleeper a gentle lift to keep those stomach juices where they belong. Does your baby just LOVE motion (a motion junkie if you will)? No worries, you can bump up the motion/sound a couple of levels and lock it in place all night long! Does your baby HATE to be swaddled and just want his hands free? Not a problem, you can open up the shoulder snaps and put baby's arms through for more freedom. Or try one arm at a time.
There is also a weening mode to help transition from the SNOO to a traditional crib once baby is old enough, sleeping well, or just too big for the SNOO Smart Sleeper.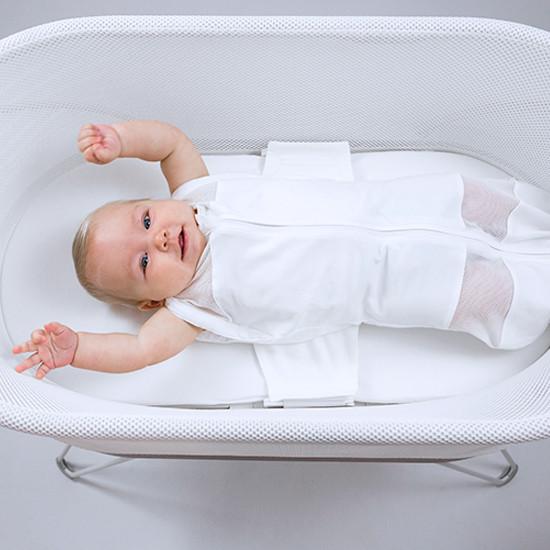 Bottom line, this is a great addition to any nursery!
If you are interested in checking out this beauty (and boy is it sleek), don't forget to check out one or more of the many Facebook groups dedicated to support, hacks, and troubleshooting among other families who are currently using or who have used the SNOO Smart Sleeper with their own babies. Combine the use of the SNOO with the support of a Postpartum Doula and you have a winning combo for sure!
Want to learn more about how a Postpartum Doula can help ease the transition of bringing home a new baby? Click Here and contact us today!