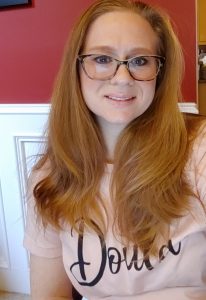 My name is Rachel Howell, and I created North Georgia Family Doulas because I have a passion for pregnancy, birth, breastfeeding, and new babies! I provide doula services to families in the North Georgia Region (including the counties of Bartow, Cobb, Cherokee, Paulding, Douglas, and North Fulton). I believe all women should have access to support during pregnancy, labor, birth and postpartum, and I want to provide it to you!
I am a wife and mother of 2 beautiful children. I had 2 totally different birth experiences with my children; 1 difference was the presence of a doula with my second birth and not with my first birth. I also experienced loss during my second pregnancy which ended in the miscarriage of twins early in the pregnancy.
My own pregnancy and birth experiences led me down a path of an unbridled passion for all things pregnancy and baby related. I was honored to provide support to my sister-in-law during her second birth and first natural labor and it sparked the desire within me to become a professional birth worker and help as many women and families as I can to achieve their best possible birth.
I enjoy spending time with the Lord and praising Him for my wonderful life with my beautiful family. I especially enjoy listening to modern praise songs with my children. When I am not helping mothers achieve their best possible birth experience, I enjoy playing with my 2 children, watching movies and TV shows, spending quality time with my family, and participating in a weekly Bible Study/fellowship group with other women of God. My Faith is a very important part of my life and I incorporate prayer wherever I feel called. I pray for my clients on a regular basis and I am always happy to pray with and for my clients upon their request or when I feel called by the Lord to do so.